We provide skilled manpower to control and maintain the services and delight our customers. Developed procedures for recruitment to identifying the qualifications, experience and required competencies of personnel are strictly followed as per ISO standards. The following key points are considered when staff is deployed to the project sites.
Organization selects all personnel based on their experience, skills, qualification and competencies

Selected personnel to speak a basic level of English within their respective roles on the site

Company provides different nationalities

Selected personnel are reoffered to client for selection of their own

All project staff receive mandatory training skills before deployment at the site

New comers will receive orientation training including HSE mandatory training

All staff allocated at the site wear clean uniforms and appropriate PPE that have been approved by client
OUR TRAINERS & AFFILIATIONS
The Training Centres are spearheaded by assessors who have been certified by the British Institute of Cleaning Science (BICSc), UK. Our assessors jointly bring with them a solid foundation of training experience as BICSc assessors and years of valuable experience in the cleaning industry. They possess a roaming assessor's license also. This enables them to conduct assessments on-site too.
The faculty comprises of the chief assessor and a team of trainers under them. They not only provide the initial training and orientation to the staff, but also coach as per the basic skill-set requirements of the client. The faculty members' expertise lies in being customer-oriented and gauging the training needs beforehand.
The basic course at the Centre includes modules such as:
Health & safety at work

Grooming standards

Colour code techniques

Chemical competence

Housekeeping & cleaning services, etc.
Apart from other things, our faculty members are adept at handling and managing all training activities as per the ISO standard. They pre-empt the training needs as per the requirements of the clients and evaluate the training programmes at regular intervals as well.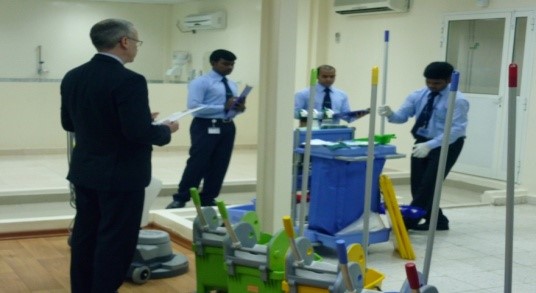 Evaluation and Refresher Training Provision
Once deployed to the work site, candidates are tested for proficiency in the various tasks. An Assessor undertakes assessments and this is an in-house trainer responsible for refresher training.